Introduction
The demand for cryptocurrencies had risen among European-based customers and as a result, exchange platforms continue to compete between them, and when there is competition, it's the customers who most benefit.
BitOfHeaven is a brand owned and operated by Loyalfinance OU, a company based in Tallinn, Estonia, registered with the local Financial Intelligence Unit (FIU) to provide services of exchange virtual currencies against fiat.
With strong AML/KYC requirements, a transparent Privacy Policy, and a comprehensive exchange platform, BitOfHeaven aims to provide the best exchange conditions and access the cryptocurrency markets to the larger public.

BitOfHeaven Cryptocurrency Assets
By registering an account with BitOfHeaven, you will be able to exchange fiat currencies (USD, EUR, and GBP) for the most demanded cryptocurrencies in the world – Bitcoin and Ether. Since both tokens benefit from very large demand, the exchange is focused on them at the time of writing, promising to constantly upgrade its offer with other popular and promising cryptocurrencies.
The good news is that Bitcoin and Ether can be used for online purchases, money transfers, or as a short-term and long-term investment. clients can use the exchange to buy tokens and receive them to their crypto wallet. Best available market rates are guaranteed and with multiple security features, funds are kept safe in accordance with strict security measures.
Exchange Platform
Access to the cryptocurrency market is ensured via a simple yet very effective platform. This isn't a desktop software, but one available via any modern browser. You can access your account from any device, even from a smartphone. At bitofheaven.io you will benefit from a customer-friendly user interface that does not require any special skills.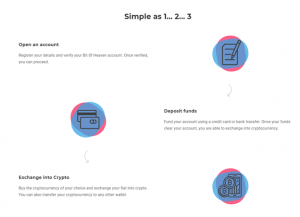 Four steps are required to exchange fiat into crypto, making the bitofheaven.io platform one of the most convenient in the market. Beneath the simplicity, though, ultimate trading technology ensures access to the best market rates. The exchange works with some of the biggest Bitcoin miners and exchange platforms, to ensure ample liquidity conditions and accurate pricing.
At the same time, it has even created an additional OTC desk designed for high volume purchases. The main purpose is to close a rate in a short period. With thousands of transactions processed each day, there is no doubt BitOfHeaven offers competitive services.
BitOfHeaven Trading Costs
Working with BitOfHeaven means access to leading rates when using credit/debit cards or bank transfers. Based on the information provided by the brand, the exchange fee is 5%. The rates at which the transactions are processed will be determined once the company receives the money. It will be maintained for 3 hours. During that period, you will have the necessary time to complete the purchase procedure.

BitOfHeaven accepts deposits using credit/debit cards and wire transfers, denominated in USD, EUR, and GBP. Once the exchange into crypto is completed, the tokens will be sent to the wallet address provided when filling in the details of the transaction. Keep in mind the exchange does not open wallets for customers. However, there are plenty of options available in the market and you can open a wallet easily.
Customer Service
As part of their constant service availability agenda, BitOfHeaven account allows the option for an easy approach to its customer service, you can always contact a company's representative using the email address, the contact form on the website, as well as the live chat feature during working days. We did not find any complaints related to customer service, which means the exchange does a good job in terms of solving any issues.
Final Words
Based on all the exchange features we've talked about, BitOfHeaven qualifies as a highly trusted and secured exchange brand
Since it is registered with the FIU in Estonia, the company complies with strict regulatory requirements, something that most of the other exchanges are not doing. Aside from the registration, the exchange is also a place where customers can benefit from noticeably competitive conditions.
BitOfHeaven has competetive fees and makes sure all customers will exchange fiat into crypto via a very simple web platform. For more information on the services provided by the BitOfHeaven, feel free to visit its official website. We conclude that this is a reliable exchange you can work with any time you want to buy crypto, benefiting from some of the best market rates.
BitOfHeaven Review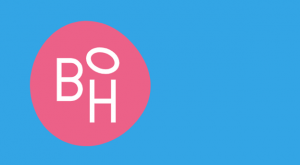 Product Name: BitOfHeaven
Product Description: BitOfHeaven is a brand owned and operated by Loyalfinance OU, a company based in Tallinn, Estonia, registered with the local Financial Intelligence Unit (FIU) to provide services of exchange virtual currencies against fiat. With strong AML/KYC requirements, a transparent Privacy Policy, and a comprehensive exchange platform, BitOfHeaven aims to provide the best exchange conditions and access the cryptocurrency markets to the larger public
Brand: BitOfHeaven
Offer URL: https://bitofheaven.io/
Cryptocurrency Assets

Platform

Trading Costs

Customer Service
Summary
BitOfHeaven is a brand owned and operated by Loyalfinance OU, a company based in Tallinn, Estonia, registered with the local Financial Intelligence Unit (FIU) to provide services of exchange virtual currencies against fiat.
With strong AML/KYC requirements, a transparent Privacy Policy, and a comprehensive exchange platform, BitOfHeaven aims to provide the best exchange conditions and access the cryptocurrency markets to the larger public.
Pros
Trusted and regulated exchange, based in Estonia, providing high-quality cryptocurrency exchange services.
Competitive market rates for Bitcoin and Ether, with some of the best exchange fees in the market.
A  simple and friendly web platform, designed to be used even by absolute beginners in the crypto space.
Cons
Some customers might argue that the cryptocurrency coverage is limited.