The cryptocurrency market performance can't be understood by most of the retail traders/investors and because of that, in such an environment, we look after reasons that could justify why valuations continue to rise, even though it would be easy to find supportive factors for a drop or at least a longer corrective structure. Today we turn our attention to seasonality, after a week ago we've talked about why the crypto market was not following Bitcoin higher.
A glance at Bitcoin seasonality
Given it is still the largest cryptocurrency in the world, Bitcoin's performance can have a meaningful impact on the broader crypto market. If we look at Bitcoin's seasonality chart, we can easily notice that in the last three months of the year are generally the most positive. The GoldStockBull chart added below shows clearly that from the end of September, Bitcoin had a good performance, analyzing data from the past 9 years.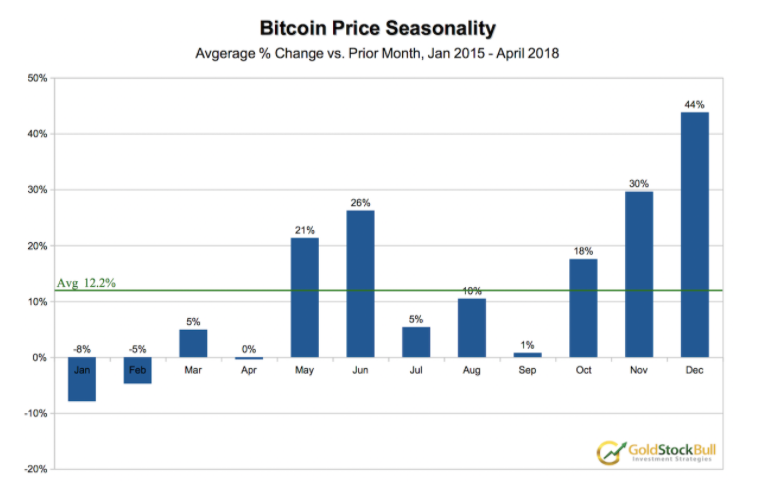 With that in mind, the performance we're currently witnessing shouldn't be such a big surprise. Bitcoin had almost reached the $16,000 area before starting to retrace lower, but given those were levels not seen since January 2018, the bullish momentum is undoubtedly very strong.
Does this mean the entire market will move in sync?
Even though conditions are favorable for Bitcoin, market participants had a completely different approach this year. The BTC performance did not dictate how the broad market performed, which makes it difficult to find the right crypto allocation.
In the altcoins market, some tokens had managed to rebound from the lows and are posting solid gains for the year, while at the same time, we continue to see many altcoins near the all-time lows, with little interest seen from investors.
The Bitcoin seasonality might be a good reason to believe that cryptocurrencies can continue to march higher until the beginning of 2021, but picking the right tokens can be done by analyzing individually each targeted cryptocurrency.
Current momentum favorable
All in all, the current market momentum is favorable for a continuation higher in Bitcoin, Litecoin, XRP, and some other dominant tokens. Although we don't exclude a reversal to the downside due to various negative factors, right now the market in point upward so we should be positioned in that direction.
Proper risk management and a balanced portfolio allocation mix would be critical, considering there is a high potential for growth, not just with Bitcoin but with plenty of other tokens providing innovative blockchain implementations.