The past week had seen financial markets engulfed by a wave of negativity and valuations tumbled. However, as we've seen in our last article, Bitcoin managed to reach $13,000 and even got close to the 2019 high. As the "last name standing" one should question what might be the reason behind this short-term outperformance.
Top ten tokens in the red for the week
Looking at the coinmarketcap.com screenshot below, the 7-day performance for all the top 10 tokens is negative. None had managed to bank any gain, yet Bitcoin continues to trade near the high, without any sign that selling might be taking control over the order flow.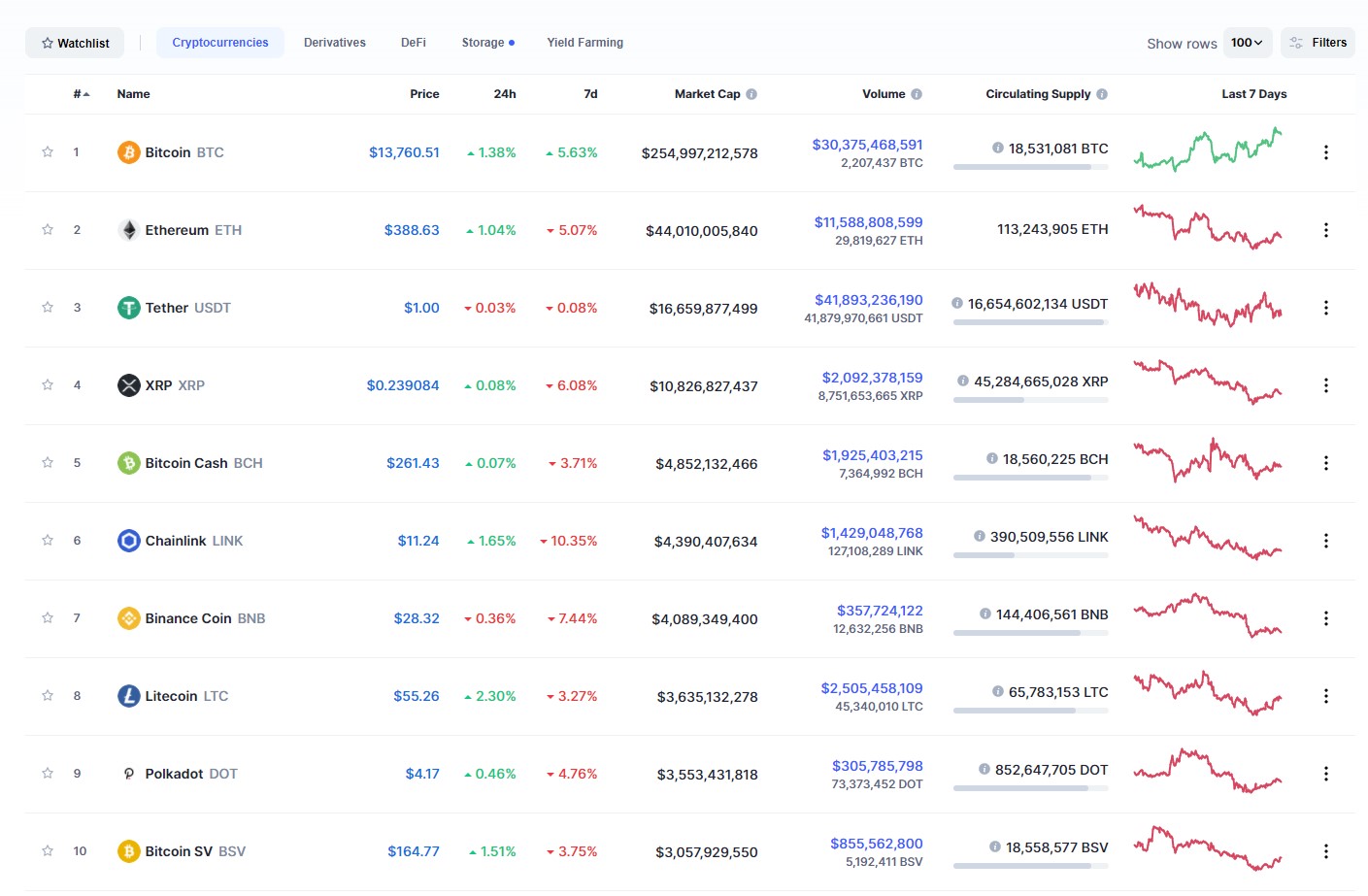 Chainlink is down 10,35%, XRP lost 6%, Binance Coin dropped 7.44%, suggesting that most cryptocurrencies are still closely correlated with the stock markets. The Bitcoin strength had been generated by the PayPal news, suggesting it will provide BTC-related services, but since then, other negative developments should have put some pressure on valuations.
Emotional trading
Having a contrarian approach in the crypto market is sometimes the best thing to do and now that Bitcoin is not following the herd, that is how investors should deal with the current conditions. Market participants don't seem to care about any negative implications and continue to buy BTC, pushing the price even further.
Taking the other side in this kind of setup is extremely challenging, considering markets can overshoot before retracing lower. Persistent poor performance in other tokens could eventually start to hit Bitcoin as well, but for now, that does not seem to be the case.
DeFi bubble pop
Another important thing to note is that DeFi tokens are the worst-performing names, and since most of them are based on the Ethereum blockchain, weakness had spread across a large share of the market. The pop of the DeFi bubble is definitely one of the reasons for the current underperformance. During the summer, we've seen Bitcoin subdued and now investors seem to have switched.
What will happen if the weakness will persist on both stocks and major cryptocurrencies? Will Bitcoin continue to be the sole outperformer? We doubt Bitcoin can keep going higher indefinitely, as long as other assets are under pressure.
The recent price developments are favorable for those that have bought at lower levels but should become a worry if BTC advances higher, ignoring the broad market mood. We should not forget that Bitcoin had been closely correlated with the financial markets the entire. During the past few weeks, the US dollar moved higher, stocks dropped, and yet Bitcoin continued to rise.