Bitcoin is back in the spotlight as the May 11th halving approaches fast. With less than 12 days until the block reward will be cut into half, it is the Bitcoin price drawing a lot of attention. If the current gains will be held by the end of the week, 7 weeks of gains in a row will be the 2020 achievement. That had not happened since the first quarter of 2019 and at that time, the price continued it rally until the summer. Conditions are different now and we should put in perspective how the price can evolve in light of the halving.
Bitcoin goes higher parabolic
As it can be easily noticed from the chart below, Bitcoin had a parabolic performance during the past few weeks, a powerful price action structure that could be indicative of more gains in the near term. Right now, all the March losses had been erased and the price could be headed towards the $10,000 area, a key psychological area where profit-taking could emerge.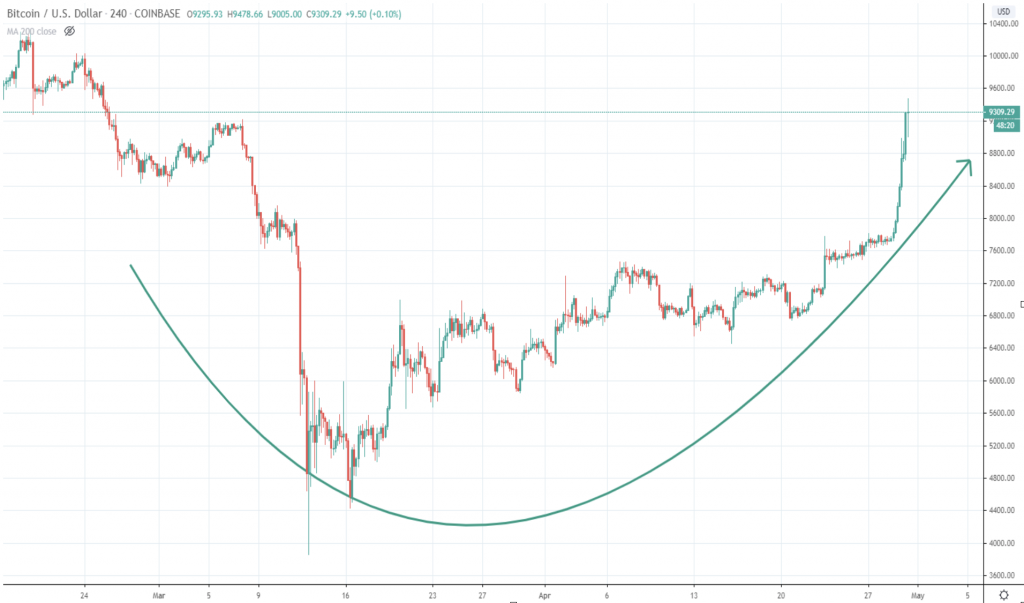 The bottom line is that the price action development is encouraging and for the past 24 hours it soared vertically on the way up, suggesting a lot of engagement from the market participants. Despite the positive developments, there are a few pieces of data that should raise questions when it comes to the continuation on the upside.
Halving price patterns
It's the third time a Bitcoin halving takes place and because of that, we already have a lot of data on how the price performed. Same like it happens now, Bitcoin had surged on the upside before the halving, only to give up almost all the gain right before or after the halving takes place. Viewed from a longer-term perspective, the reduction of the block reward to 6.25 BTC should have a deflationary impact on the price, which means it could rise against fiat currencies like the US dollar.
This is only the supply side and the demand will count equally. Traders/investors should have a well-set mindset for dealing with cryptocurrencies in the months ahead, given that we could see an abnormal market performance. Things get even more complicated now that we have a global pandemic rattling financial markets and the global economy. That should be a significant risk factor moving forward since the appetite for cryptocurrency will suffer from wild swings. There's no done deal in terms of the next bull run for Bitcoin and until that happens, volatility could push the price lower.