Introduction
"Think, Adapt, Trade" is the mantra of CMarkets Group, the online trading brand owned by Click World Ltd. Increased activity in the cryptocurrency market had created a lot of demand for trading instruments based on crypto. Many traders are looking these days to take advantage of this market volatility.
And that is exactly what clients working with CMarkets Group can do, thanks to a broad selection of cryptocurrency instruments currently supported by the broker. With an intuitive and dynamic trading experience, safety mechanisms, educational resources, and a diversified trading offer, the brand had more than 150,000 clients until now and had completed more than 650k trades.
This CMarkets Group review will highlight some of the reasons why cryptocurrency traders should work with this company.

CMarkets Group Cryptocurrency Assets
At present, there are more than 100 different cryptocurrency assets to trade on, starting with the popular tokens (Bitcoin, Ether, Litecoin, or XRP), to small altcoins like BCY, AMP, ARDR, and others. With CMarkets Group customers have access to fiat crypto pairs, in EUR or USD, on top of many different crypto-to-crypto pairs.
Contracts denominated in BTC, ETH, XMR, or the popular stablecoin Tether are also available, which means clients get to trade on some of the most liquid instruments. Spreads are tight and overnight swaps are in line with what other brokers are offering. The leverage fluctuates between 1:200 and 1:500, depending on the account type chosen by each client.
Trading Platforms
Trading software is one of the areas where CMarkets Group excels, considering it has developed a proprietary platform to work excellently in the cryptocurrency trading industry. Sirix is a very flexible trading platform, accessible via the browser, desktop, or mobile devices, including both Android and iOS versions.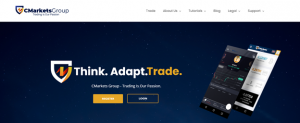 Aside from advanced charting, risk management tools, and other features that are very common, the CMarkets Group social trading capability stands out hugely. Using this built-in service, traders can copy trades placed by experienced traders. Sirix displays a live ranking of the top traders part of the program, based on their P/L and the number of copiers.
At the same time, it is important to note the platform has many other functions, including deposits, one-click trading, and the ability to choose between many different languages. Siris is a platform well-optimized for the challenging cryptocurrency markets, and because CMarkets Group is solely focused on this industry, traders can find a lot of benefits.
CMarkets Group Account Types
To start trading live with CMarkets Group, a Student account is very convenient, since it requires a minimum deposit of $250. In exchange, you get access to up to 1:200 leverage on all crypto instruments, and all the features integrated into the Sirix platform. However, the offer is well-diversified and includes Starter, Advanced, Pro, and Expert accounts.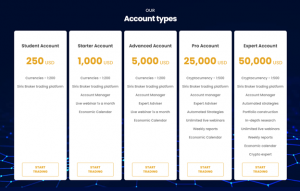 Features like live webinars, account manager, expert adviser, automated strategies, weekly reports, in-depth research, or crypto expert, will be unlocked, in exchange for a larger deposit. Clients can deposit funds in their accounts using a credit/debit card or wire transfer. The same methods will be used for withdrawals.
CMarkets Group Education
On top of all the trading features described so far, CMarkets Group wants to help customers deal with the cryptocurrency market via multiple educational resources. Keep in mind that these will depend mostly on the account type you choose to open with the broker. Still, you can get access to live webinars, articles published on the blog, webinars, reports, assistance from an account manager, and other resources.
Final Words
Due to its vast experience in providing cryptocurrency trading services, CMarkets Group is currently one of the leading brokers that want to facilitate broad access to this growing market. There are multiple trading benefits available, including modern trading software, educational resources, safety mechanism, and overall intuitive trading experience.
Because it allocates a lot of resources to constantly improve its services, CMarkets Group has a clear edge over other competitors. That is why the broker stands out in a big way when it comes to the crypto instruments covered. Trading opportunities had been arising this year in altcoins more than in the popular names (BTC, ETH, LTC, etc.) which mean traders focused on this market need to be able to get involved in many different cryptocurrencies. This is a broker that satisfies that need and because of that., we are pleased to award CMarkets Group a good rating.
CMarkets Group Review

Product Name: CMarkets Group
Product Description: "Think, Adapt, Trade" is the mantra of CMarkets Group, the online trading brand owned by Click World Ltd.
Brand: CMarkets Group
Offer price: 100$
Currency: USD/ EUR / GBP
Offer URL: https://cmarketsgroup.com/
Trading Platform

Languages

Spread

Support
Summary
"Think, Adapt, Trade" is the mantra of CMarkets Group, the online trading brand owned by Click World Ltd. Increased activity in the cryptocurrency market had created a lot of demand for trading instruments based on crypto
Pros
Cryptocurrency-oriented broker, providing access to more than 100 different cryptocurrency instruments.
Anybody can start trading with CMarkets Group with as little as $250.
Customer support service available via live chat, phone, or email, 24/7.
Cons
Limited trading features for Student account holders.
Higher spread on less-popular cryptocurrency pairs, due to lower liquidity
No support for other asset classes. CMarkets is a cryptocurrency broker only.